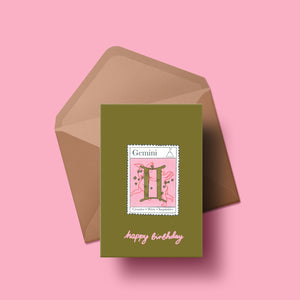 whatmabeldid
Gemini Star Sign Greetings Card
Regular price
$6.00
$0.00
Unit price
per
Tax included.
Shipping
calculated at checkout.
Introducing the Gemini Star Sign Card, a dazzling homage to the charismatic and dynamic individuals born under the Gemini zodiac sign. This extraordinary card combines the timeless charm of a vintage-inspired postage stamp with a vibrant and captivating color palette, making it a perfect gift for any Gemini in your life.
The front of the card showcases a meticulously crafted illustration reminiscent of classic postage stamps, featuring a stunning depiction of the Gemini symbol. Delicate lines and intricate details bring this celestial symbol to life, capturing the essence of the Gemini's dual nature and boundless energy. The vintage-inspired design adds a touch of nostalgia, evoking a sense of wonder and curiosity.
Inside, the card is blank and provides ample space for you to express your heartfelt message. Whether it's for a birthday, a celebration, or simply to let a Gemini know you're thinking of them, this card offers a canvas to convey your warmest wishes and deepest emotions. 
This card comes with an embossed, recycled kraft envelope.
Sustainably sourced paper

made from:
350gsm sustainably sourced paper and a recycled kraft envelope.
dimensions:
Diameter 210cm x Length 148.5cm (A5 when folded)
---