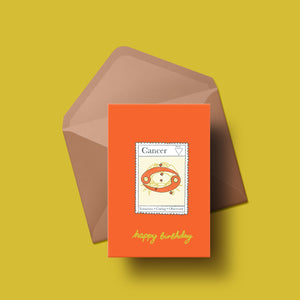 whatmabeldid
Cancer Star Sign Greetings Card
Regular price
$6.00
$0.00
Unit price
per
Tax included.
Shipping
calculated at checkout.
Introducing the Cancer Star Sign Card, a captivating homage to the nurturing and sensitive individuals born under the Cancer zodiac sign. This enchanting card combines the vintage allure of a postage stamp-inspired illustration with a vibrant and radiant color palette, making it the perfect gift for any Cancer in your life.
The front of the card showcases an intricately designed illustration reminiscent of classic postage stamps, featuring a beautiful portrayal of the Cancer symbol. The delicate lines and meticulous details bring this celestial symbol to life, capturing the essence of the Cancer's deep emotional connection and intuitive nature. The vintage-inspired design adds a touch of timeless elegance, evoking a sense of nostalgia and warmth.
Inside, the card is blank and offers ample space for you to express your heartfelt message. Whether it's for a birthday, a celebration, or simply to let a Cancer know how much they mean to you, this card provides a canvas to convey your warmest wishes and deepest affection.
This card comes with an embossed, recycled kraft envelope.
Sustainably sourced paper

made from:
350gsm sustainably sourced paper and a recycled kraft envelope.
dimensions:
Diameter 210cm x Length 148.5cm (A5 when folded)
---